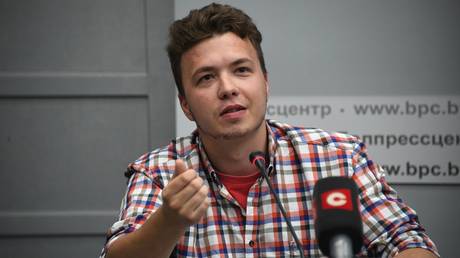 Roman Protasevich had been sentenced to eight years in prison for organizing riots and calling for violence
Belarusian authorities have reportedly pardoned the former editor-in-chief of the Nexta Telegram channel, Roman Protasevich, according to state media outlet Belta. On May 3, the opposition journalist was sentenced to eight years in prison on charges of attempting to seize power through unconstitutional means.
According to Belta, Protasevich told journalists on Monday that he had already completed all the paperwork securing his release. "Literally, I just signed all the relevant documents that I was pardoned. This, of course, is just great news," he said.
Protasevich was initially arrested on May 23, 2021, amid a wave of violent anti-government protests that rocked Belarus in 2020 and 2021. The journalist was detained aboard a Ryanair flight en route from Greece to Lithuania that was forced to land in Minsk due to an alleged bomb threat.
As the editor-in-chief of the  'Nexta' and 'Belarus of the Brain' Telegram channels, which were declared extremist organizations by the Belarusian authorities, Protasevich was tried for organizing mass riots and making public calls to seize power, commit acts of terrorism, and other actions aimed at harming the national security of Belarus.
DETAILS TO FOLLOW.
---
Trending Tours & Activities:
---