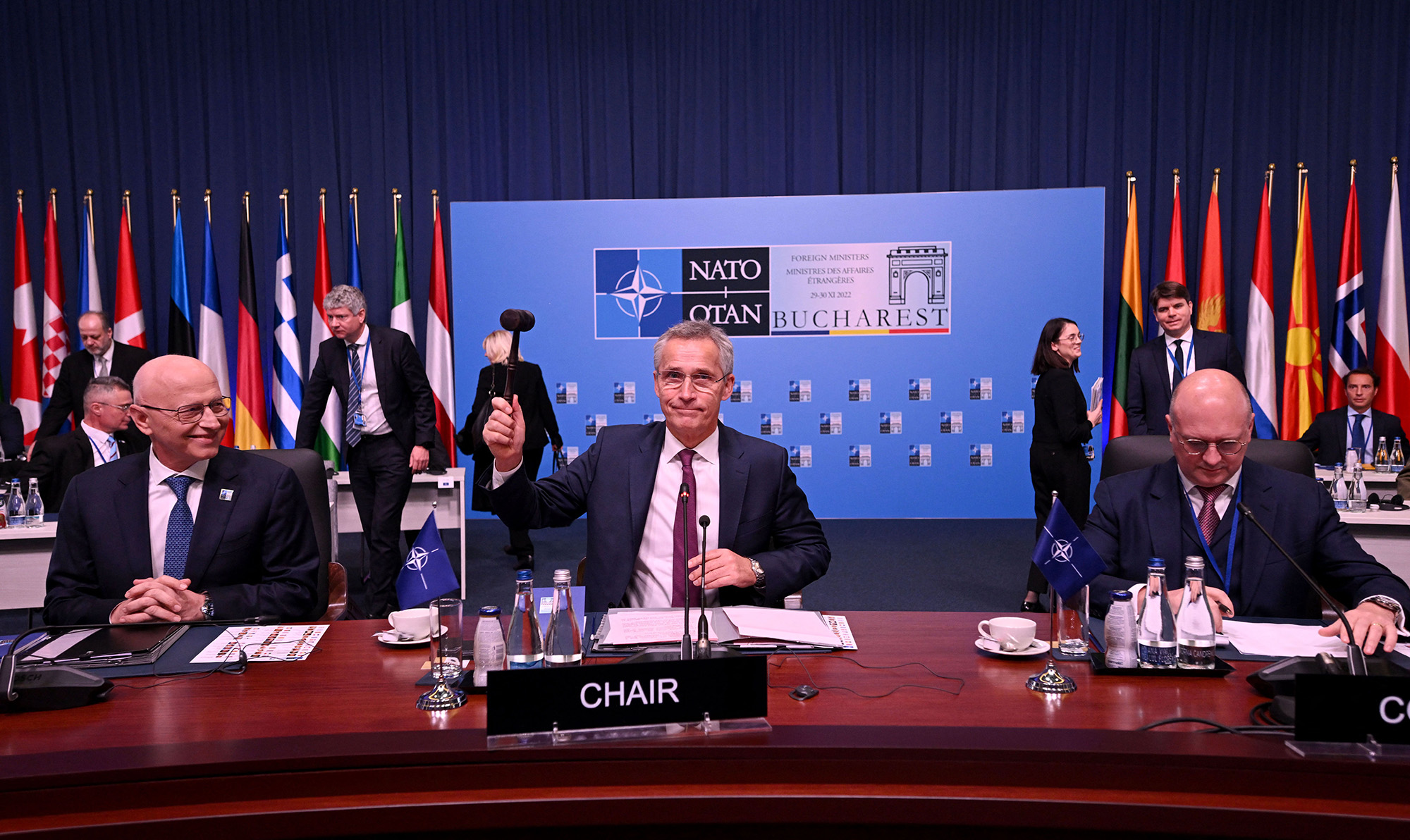 NATO Secretary General Jens Stoltenberg, center, opens the meeting of the NATO Ministers of Foreign Affairs in Bucharest, Romania, on November 30. (Daniel Mihailescu/AFP/Getty Images)
NATO foreign ministers pledged more support for Ukraine in a meeting in Bucharest Tuesday, including assisting in repairs to its energy infrastructure amid Russian attacks.
They said in a joint statement that they remain steadfast in the "commitment to Ukraine's independence, sovereignty, and territorial integrity."
"Russia's unacceptable actions, including hybrid activities, energy blackmail, and reckless nuclear rhetoric, undermine the rules-based international order," the statement read. 
Ukraine has been experiencing nationwide blackouts as Russia continues to bombard energy infrastructure.
NATO Secretary General Jens Stoltenberg confirmed that generators and spare parts for Ukraine's energy grid had already been delivered.
"We have delivered generators, we have delivered spare parts, and allies are, in different ways, helping to rebuild the destroyed infrastructure. We need to realize that there are enormous effects of the attacks (by Russia)," Stoltenberg said as he arrived for the meeting.
The United States announced it would provide $53 million to buy power grid equipment for Ukraine.
"This equipment will be rapidly delivered to Ukraine on an emergency basis to help Ukrainians persevere through the winter," a State Department statement said, adding that the package would include distribution transformers, circuit breakers and surge arresters among other equipment.
Ukraine urged its Western partners to supply it with both air defense systems and transformers to blunt Russian strikes.
Ukrainian Foreign Minister Dmytro Kuleba said he was discussing with NATO foreign ministers how to speed up the process of weapons deliveries to his country and secure the energy infrastructure.
"We appreciate what has been done, but the war goes on," said Kuleba on the sidelines of the NATO meeting, speaking alongside Stoltenberg. 
"Today I have three other words, three different words, which are: faster, faster and faster," Kuleba said.